Everything you need to optimize your taxi fleet
Thanks to the AKOS software suite, you can enhance the visibility of your central booking system in the digital world, improve your ability to fulfil your customers' requests and increase the average number of fares per driver, while at the same time reducing their dead mileage.
Advanced dispatching
AKOS TAXI centralizes booking requests and sends the fares to the drivers in accordance with your group's specific rules.
Multichannel platform
At the heart of the automatic fare allocation system lies the Akos Taxi application.
Each customer request, via whatever channel, is assigned to a driver in accordance with the group's specific rules, however complex those are.
Hosted within the group itself or on the Axygest cloud, the application constantly monitors itself in order to guarantee 99.99% availability.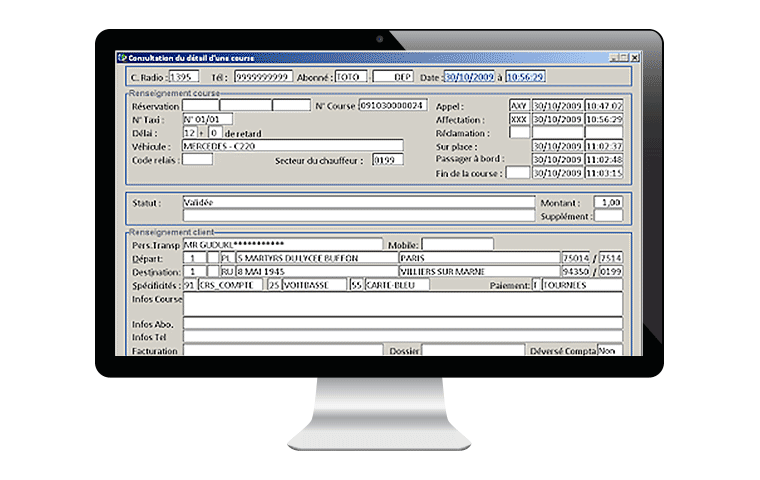 Customer management
Customer types: private individual, medical, and subscriber.
Very high flexibility for configuring customer types.
Handling fare priorities on a per customer basis.
Saving favourite journeys.
Excluding addresses.
Restrictions by period, customer and user.
Exclusion of drivers for certain customers.
Sending text messages during the processing of the fare (fare being dealt with, driver waiting, delay).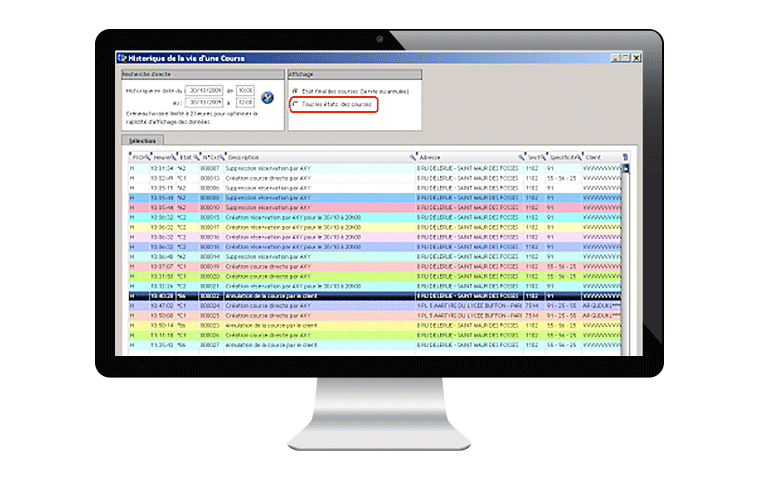 Driver management
Management of specific details for drivers (e.g. languages spoken) and vehicles (e.g. number of seats).
Management of dual-operating drivers and employees.
On-duty scheduling.
Bi-directional message exchanges between dispatch and drivers.
Broadcasting messages to the whole fleet.
Great flexibility in managing driver behaviour (time and/or points penalties).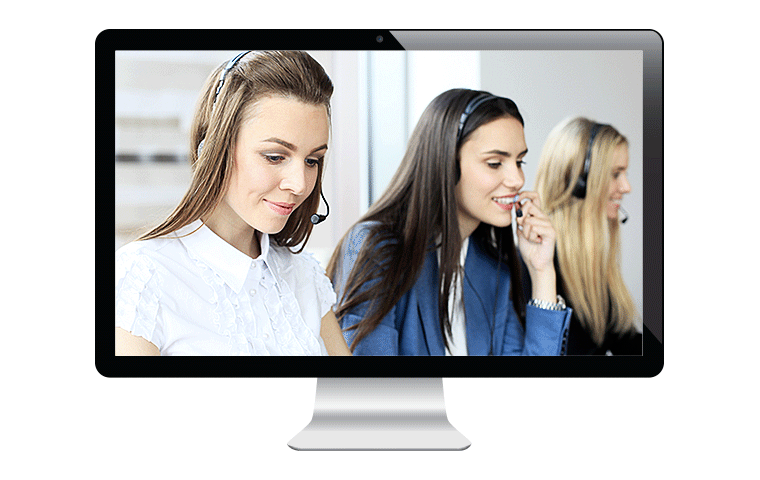 Call handling
Adaptation to the group's desired phone processing.
Can be integrated with the group's PABX (TAPI standard).
Automatic creation of incoming phone number database.
Complies with CNIL rules.
Information stored via TAPI phone files automatically fed to operator's screen.
Management of driver calls (incident, delay, no charge).
Customer complaint handling.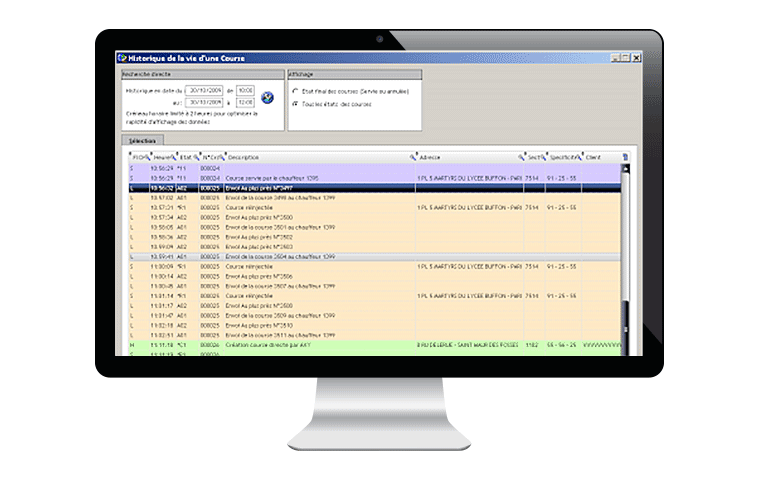 Fare allocation
Supports 5 distribution levels so as to adhere as closely as possible to the group's rules.
Factors taken into account:
Sectors, ranks, distances, geographic privileges linked to the taxi licences.
Specific details of drivers and vehicles (speaks English, 9 seats, etc.).
Seniority of the driver at the rank, sector, sector grouping, etc.
Say of the week, time slot, short/long journey.
Cumulative business for each driver.
Fares sent out in individual or "auction" mode.
Management of fares pre-allocated to drivers.
Modifications to the distribution configuration effective immediately.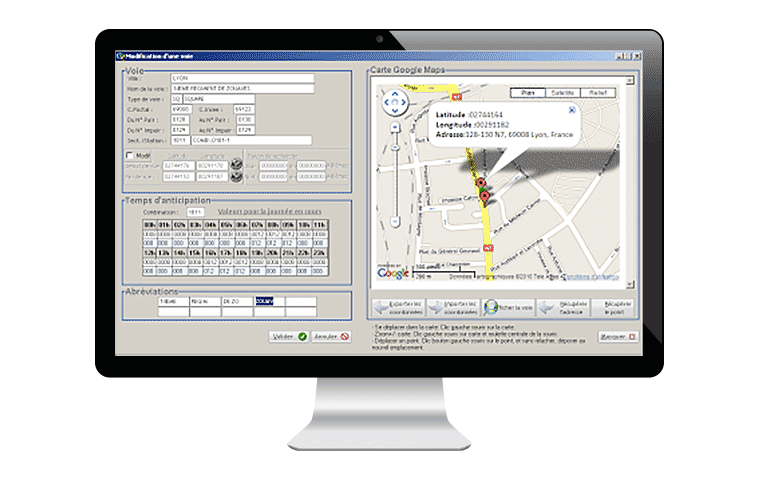 Administration
Detailed log of each fare (time stamped, mapped tracking).
Statistics on:
operators (number of calls, time present).
activity (number of requests, number of fares handled, cancelled, complaints, etc ...).
customer (number of journeys, turnover, etc ...).
drivers (number of fares accepted and refused, etc ...).
Rights management by group profile and by user.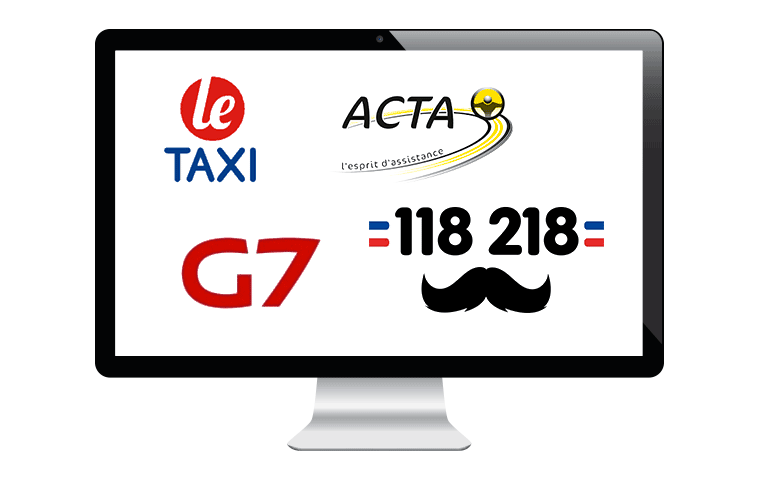 Interfacing with third-party systems
Option to incorporate external fare streams into the group by using Web Services.
Standard interfaces:
Fares from Open Data Taxi (Le.Taxi).
Directory enquiries services operator.
G7.
Assistance services.
Interfacing with other operators on request.