Great success for Axygest at the salon des taxis 2017 parisian tradeshow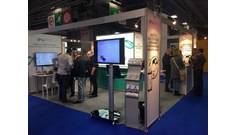 A great success for Axygest at the "Salon des Taxis 2017" tradeshow that occured in Paris on January 28th and 29th.

Hundreds of taxi drivers visited the Axygest booth, mainly to discover its new mobile app named AKOS TP MOBILE, that aims to ease the billing of medical rides on board.

The Axygest staff also welcomed dozens of representants of taxi operators, who confirmed their interest for the leader of the french market of taxi dispatch solutions.